Check this out… I created this stand-alone professional-looking marketing landing page as an example to generate leads, complete with email signup forms, a signup thank you page, and an automated double-opt-in confirmation email… and it only took me 10 minutes to create from start to finish!
It's pretty crazy what's available online nowadays for free for entrepreneurs and freelancers!
Try it yourself… for free!
Want to know how you can do the same for your business or project? No problem. Here's how… it's super simple, and will cost you nothing:
How To create a landing page
Just follow these simple steps to create a landing page quickly.
After signing in, look for the Quick Actions area on your dashboard, and click the "Create landing page" button.
Alternatively, you can use the Tools menu to navigate to the "Landing pages" page, and then click the "Create landing page" button that shows up there.
Select a predesigned landing page template that looks good to you.
NOTE: If you want to follow along with my example that includes email sign-up forms and a thank-you page, then make sure to choose a template from the "Sign-up and registration" category. Otherwise, just choose whatever you want… you can even select a simple single page with no email sign-ups.
PRO TIP: Don't worry if it isn't exactly what you want… you can customize any part of it later.
In the popup preview of the template, enter a name for the landing page, and click the "Next step" button.
Use the page editor tools to update any text, images, videos, and buttons as you see fit.
PRO TIP: Don't forget to update the Thank You page. You can edit the different pages using the tabs in the top left of the editor.
PRO TIP: Use the Preview tools to see what your page looks like on both desktop and mobile devices.
When you're done making changes to both the desktop and mobile versions, click the "Next step" button.
You'll be taken to the landing page settings where you can customize the title, sub-domain URL (or even assign your own domain!), and email subscription list settings. When done, click the "Publish" button.
Congratulations! Your new landing page with email signups and newsletter system should now be live and ready for you to promote!
And you launched it for free!
When I created my example landing page, it took me less than 10 minutes to do basic customizations and publish it. Pretty streamlined tech, imho!
The "GetResponse Free" Plan
The best part is that you can do all of this for FREE as part of the "GetResponse Free" plan. The GetResponse Free plan is a "forever-free" account that gives you access to lots of business tools for free.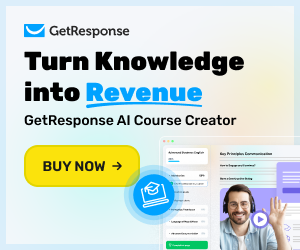 Here are some things you can get with the GetResponse Free plan:
Publish 1 landing page (using a predesigned template or from scratch).
Signup and contact forms.
Manage up to 500 contacts.
Email creator and predesigned email templates.
Connect your own custom domain, if you have one.
Build a website without having to write a single line of code.
Tools such as galleries and popups.
Go Premium… or not… it's up to you!
You can, of course, upgrade to one of their premium plans at any time later if you decide you want even more features, or if your contact list is growing like mad.
If you're curious about the premium features, no worries… you can even try them out for free, too. When you first sign up for GetResponse Free, they will automatically give you all of the premium features for free for 30 days.
After your trial of the premium features, if you don't want to sign up for a premium plan, just stay on their GetResponse Free plan! 😎
And, later on, if you decide you want to use a different service altogether, you don't have to worry about losing lots of money or your contact list you've built up so far. Simply unpublish your landing page, download your contact list using their export feature, and be on your way without having ever spent a single penny for all of those services and features!
But my guess is you'll end up liking what GetResponse has to offer. 😊

Why should you use GetResponse?
If all the above wasn't proof enough that GetResponse is worth trying out, then consider these other GetResponse free and premium features and offerings.
It's great for marketers and entrepreneurs who don't want to fuss with creating and managing a big website.
You can go back and edit, tweak, and customize your landing pages at any time.
You can choose from tons of ready-made templates.
You easily customize your landing page, thank you page, and email list settings.
GetResponse allows you to collect and manage emails with an automated email subscription sign-up system.
GetResponse automatically sends visitors who sign up a double-opt-in confirmation email, so that you don't have to worry about all of those details.
You can turn on the feature to automatically get notified when new users sign up for your newsletter!
You can quickly and easily send an unlimited number of newsletter emails to your contact list that you build up.
You can automate the delivery of email templates that you create ahead of time. Using their auto-responder feature, the whole system is automated and you don't have to be involved once you set it up.
Your landing page is auto-optimized for SEO and fully functional on both desktop and mobile devices! That's pretty amazing for just a few minutes of work!
You don't need your own domain name or hosting service. Just use the free sub-domain that GetResponse auto-assigns to you. You can even customize the sub-domain to match your branding. They do the rest.
You can use your own branded domain that you've registered!
You can do A/B Testing using variants of your landing pages.
It's scalable! If your business skyrockets, you can rest assured knowing that GetResponse will be able to handle the load.
There are a ton of other premium powerful tools and features that GetResponse offers if you ever need them… there are just way too many to cover in detail in this short article: reporting, webinars, conversion funnels, ads, web push notifications, chat systems, APIs, integrations, etc.
Final Thoughts
A landing page is like a mini-website with just one primary page and possibly a thank-you page for when users sign up for your newsletter. They are super useful for lead generation, marketing your business, building an email list, and small freelance projects that don't require a full-blown website.
You can quickly and easily build your own landing page for free using the GetResponse Free plan.
There's nothing to pay and nothing to lose. Why not try it out now?