Are SEO tools worth it?
Yes, professional SEO tools that are bundled in SEO software toolkits are definitely worth the cost!
This short article will explain why I think you should spend your time and money on SEO tools. 😊
Here's a quick overview of what we'll cover:
What SEO tools are used for.
Why use SEO tools and the difference between free vs premium SEO tools.
Rough cost of SEO toolkits.
Recommended SEO toolkits to start with.
If you are new to SEO, perhaps you want to first head on over to our comprehensive SEO guide filled with SEO tools, resources, techniques, tips, and tricks. 😉
What are SEO tools and toolkits?
SEO toolkits are all-in-one software toolsets that offer a ton of Search Engine Optimization tools.
With robust and powerful features, these SEO tools can help you with:
Market research
Competitor analysis
Content creation
Website auditing
Tracking and analyzing keywords, rankings, backlinks, and website changes
Marketing and advertising
Generating organic traffic
Reporting
PRO TIP: Many of these features are streamlined and automated, saving you lots of time and helping you avoid repetitive and tedious work.
What are the top reasons to use SEO toolkits?
SEO toolkits offer you instant access to a large number of highly-integrated SEO tools that you are unlikely to find elsewhere. 🔥
However, it's possible to also use lots of individual free SEO tools.
You can either sign up for lots of separate free SEO tools or pay for an all-in-one service that bundles together a set of business-level SEO tools into a user-friendly package.
Are free SEO tools worth it?
Sure, you could cobble together your own toolkit of free SEO tools. Just be aware that you're probably going to want 20 or more tools that help you with different aspects of SEO!
And there are several huge drawbacks 😢 to going the free route:
Researching and choosing a high-quality SEO toolkit from a short list of a dozen or two is already enough work for most people… so imagine trying to do the same 20 times over and sifting between hundreds of free SEO tools! 😵
The learning curve is higher. This is because each free SEO tool has its own distinct design, structure, goals, and wording that might not be consistent across all of your tools.
You have to sign up for lots of separate services. That means even more usernames, passwords, profiles, settings, and email subscriptions that you have to keep track of and manage!
Free tools are not integrated with each other! That means you'll have to manually jump back and forth among multiple tools, copy data to multiple places, and try to remember where you left off with each tool.
Because they often lack funding, some owners of free SEO tools abandon those tools over time. That means those free tools you use might…
Suddenly shut down.
Be out-of-date.
Have bugs and security vulnerabilities.
No longer follow the industry's best practices.
Miss out on new powerful techniques.
Don't get me wrong… I'm not saying that free SEO tools are bad or worthless. But from a time, effort, and synergy viewpoint, SEO toolkits often provide more value.
PRO TIP: Ironically, it's usually the case that "free" tools end up costing you your time, energy, and other resources. How much is your time worth?
Yes, in my opinion, premium SEO toolkits that include a wide variety of enterprise-level SEO tools are certainly worth their price.
These professional SEO toolkits are highly sophisticated and automate the tracking, analysis, and reporting aspects with ease.
You'd spend hundreds or thousands of hours — not to mention a bit of your sanity — if you were to try to manually research and track all of this data in a spreadsheet!
With SEO toolkits, you can compete in your market using the exact same SEO tools that many of your own competitors already likely use! 😎
How much do SEO toolkits cost?
All-in-one SEO toolkits come in many different plans that cater to your needs.
PRO TIP: Many SEO services offer free trials, and some even offer ongoing free access to their software with limitations, so that you can continue to try out their features over a longer time period.
Generally speaking though, here's what you'll find:
💰 Basic and starter plans will cost you around $10-50 / month.
💰💰 Business and professional plans will run about $50-150 / month.
💰💰💰 Advanced and enterprise plans can cost about $150-900 / month.
💰💰💰💰 Many SEO toolkit services also offer custom plans for agencies and large corporations that might have special requirements.
Recommendations
I've personally researched and used many SEO toolkits for this website.
Based on my own experience using these tools, my personal recommendation is to start out with either Semrush, Ahrefs, SE Ranking, or Serpstat.
And even better, Semrush, Ahrefs, SE Ranking, and Serpstat all offer free trials or a free-tier plan… so there is nothing to lose to try them out. 😍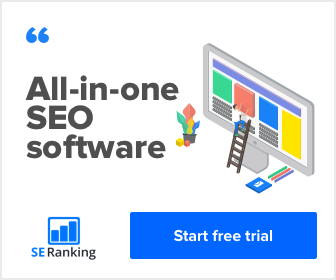 If you want a more detailed list of my recommendations, including a list of other all-in-one SEO toolkits available on the market, then check out our comprehensive SEO tools guide.
Enjoy! 😊